A State Of Trance Epizodes
Every year, ASOT is celebrated. Armin van Buuren and his team invite talented Trance & Progressive DJs to various cities around the world. The first ever episode was broadcast on June 1, 2001, from the small ID&T radio studio in Amsterdam.
Armin van Buuren's long-time friend, DJ and producer, Ruben de Ronde, helps with preparations of ASOT.
Mr. Perfect:
Armin van Buuren
Armin van Buuren belongs to the world's top DJs for more than 15 years. He is famous for his production, as well as A State Of Trance radio show, which has 900 episodes. In addition, he won 5x (of which 4 times in a row) DJ Mag and he is in TOP 5 for over 13 years.
About Us
Facebook page A State Of Trance – Czech Republic has been founded in January in 2012. We wanted to unite the trance community. We published a lot of content and started competitions for free tickets on events in the Czech Republic, Slovakia, and Poland.
What Our Fans Told About Us?
We try to manage Facebook sites as best we can. And our fans appreciate it. We are very pleased.
"Skvělá stránka, která sděluje nejnovější novinky ze světa TRANCE! Informuje o akcích a pořádá i zajímavé soutěže Ještě jednou díky!"
Lukáš Nadrchal
"Super stránka jak hudbou tak soutěžemi.
Díky A State Of Trance Czech Republic jsem vyhrála vstupenku do Wroclawi na Tranceformations 2017. Díky a těším se moooooc."
Zuzka Hanka
"Nejlepší česká stránka zabývající se modlou jménem trance. Spousta soutěží, aktivita a především bezproblémová komunikaci a ochota."
Richard Lichnovský
Team of Administrators
The following people take care of content, partneships and the great ideas:
Petr Grenar
Admin
Petr Minařík
Founder and Admin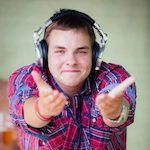 Ondřej Král
Admin
150+
5* REVIEWS
2800+
FANS
30+
COMPETITIONS
Who We Worked With?
An overview of our current and former partners with whom we organized contests for free event tickets.